Even though it has not opened in theaters yet, a new Vietnamese action movie called Dong Mau Anh Hung (The Rebel or Heroic Blood) has garnered a lot of public attention thanks to a gripping trailer.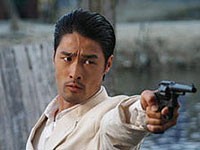 Johnny Tri Nguyen in "The rebel"
Directed by Vietnamese-American Charlie Nguyen, the film, set in the early 20th century, follows a man named Cuong who returns to Viet Nam after studying in France. He is employed by the French army to carry out a secret mission. During the course of the mission he meets a female intelligence officer for the resistance army and falls in love. His life then takes an unexpected turn…
During a screening of the film for the for censorship committee, The Rebel received many compliments. As well, global rights to the movie were recently bought by Weinsteins Co. adding it to their collection which includes such titles as Derailed (2005), Transamerica (2006) and Shut up & Sing (2006).
The Rebel also has a leg up on other Vietnamese movies since its writer, director and actors have all been busy making movies in the U.S., especially Dustin Nguyen and Johnny Tri Nguyen who achieved a good deal of success in Hollywood.
For many, The Rebel represents a beacon of hope for the future of the Vietnamese movie industry in terms of both the quality and quantity of locally produced films. It's also a chance for the world to see what Viet Nam has to offer…