Five Vietnamese films will be screened at the 20th Busan International Film Festival 2015 to take place in the southern South Korean city of Busan on October 1-10.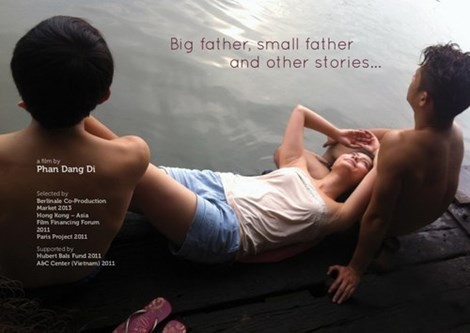 Poster of the film Cha va con va…( Big Father, Small Father and Other Stories)
Movies include Cha va con va…( Big Father, Small Father and Other Stories) directed by Phan Dang Di, Quyen directed by Nguyen Phan Quang Binh will compete in the category of "A Window on Asian Cinema".
Films consisting of Cha cha cha of filmmaker Do Quoc Trung, Thang Rom of Tran Dung Thanh Huy and Em la ba noi cua anh (I am your Grandmom) of Phan Gia Nhat Linh are selected for the 2015 Asian Project Market at the film fest.

This year's film show attracts a total of 304 movies from 75 countries that will be competing for the various awards, such as New Currents Award, Sonje Award, BIFF Mecenat Award, Actor & Actress of the Year, NETPAC Award, FIPRESCI Award, The Asian Filmmaker of the Year and more.

Special programs of the film show include a meeting with director Johnnie To from Hong Kong (China) and screening of his latest movie "Office", a musical comedy-drama film starring Chow Yun-fat; the 'Asian Cinema 100' featuring the history and aesthetics of Asian films to show the Asian cinema history in a new light., Asian film market and others.

Started in 1996, the annual Pusan International Film Festival is one of the most significant film festivals in Asia.The event aims to introduce new films and first-time directors, develop and promote young talent, especially those from Asian countries.