A good news to Vietnamese film-makers is that their films will be shown at the French culture center (Idecaf).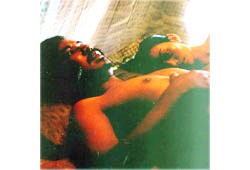 A scence of "Living in Fear"
The French consulate-general in Ho Chi Minh introduced a program to introduce Vietnamese films with French subtitle at Idecaf.
The first film will be on is "Living in fear", directed by Bui Thac Chuyen, which won the award for the best new Asian talent at the 9th Shanghai International Film Festival three months ago.
The film will be screened at 19h on October 31 and 15h on November 4.
From now on, French nationals and Ho Chi Minh City residents can enjoy excellent Vietnamese films.
Audiences are admitted to Idecaf gratis.