An exhibition of Vietnamese folk paintings used to decorate homes for Tet is taking place at the Ho Chi Minh City Fine Arts Museum (97A Pho Duc Chinh Street, District 1) from now until February 28.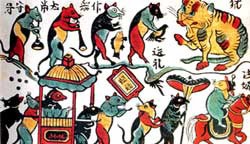 One popular print of Dong Ho folk painting is known as "Mouse wedding".
More than 170 paintings will be displayed, illustrating a variety of subject matter including worship, satire, history and daily life.
Organizers hope that the paintings will give audiences an opportunity to learn about the culture, land and people of Viet Nam.
Inspiration for Vietnamese folk paintings usually stems from a strong desire to live a life of comfort, prosperity and happiness.
A documentary film about the Dong Ho Folk Painting Village in Bac Ninh province, 30km to the east of Ha Noi, will also be screened at the exhibition.
Master folk artist, Le Dinh Nghien, will also be on hand to display his skill at printing and drawing until February 8.