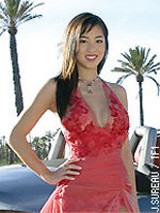 Marjolaine Bui
Vietnamese French Actress Marjolaine Bui, presenter of Greg le Millionaire on TFI French Television will perform in "Saigon Eclipse", a film of overseas Vietnamese director Othello Khanh.
Because of the Greg le Millionaire's success, Sony Music had signed with Marjolaine Bui a one year exclusive deal and as a result, her first Geisha album was released last year.

"Now, I have temporarily put singing aside to take the role of Vanessa in "Saigon Eclipse". It is the first time that I start acting in Viet Nam", she says.

"I can not take part in all fields at the same time; I will try my ability in one area at a time.  Greg le Millionaire took me two years and I have lost one year to singing, now I am saving all my time for movies", she adds.

In France, Asian actress and actor can find opportunities to develop their career. According to Marjolaine, beside the beauty and grace, they also need a bit of good luck.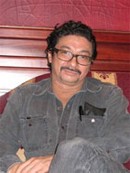 Overseas Vietnamese Director Othello Khanh
"There is a similarity between Vanessa and me in Saigon Eclipse", Marjolaine Bui says. Vanessa, an overseas Vietnamese beauty, comes back Viet Nam to visit her fatherland. She realizes that the life is very interesting in Viet Nam and there are many things that she wants to discover.

"Saigon Eclipse" is inspired by the characters of Nguyen Du's 19th century masterpiece "The Story of Kieu" or the first epic poem written in Vietnamese. It relates the destiny of Kieu, a young Vietnamese woman who sacrifices herself for her family.  It is a stunning and tragic story of loyalty and the perils of beauty.

Marjolaine Bui's parents are Vietnamese and she has seven siblings in all. She had studied acting in Cours Float School and fashion design in EsMod International Fashion School. She was chosen as a MC of Greg le Millionaire program in 2003, the program attracted a great number of audiences in France.
Related article:
- "The Story of Kieu" Developed into a Feature Film?