Young hair designer Bui Duc Thinh triumphed over competitors from Japan, Korea, Thailand, Indonesia, Singapore, the Philippines and Hong Kong at the Ho Chi Minh City Opera House yesterday to win the Asian final of the 2007 Hair Style Creative Contest.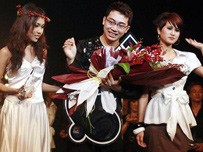 Bui Duc Thinh (C)
Second place went to Vietnamese-Japanese Dung My Tran who, in company with Bui Duc Thinh, will travel to Barcelona, Spain in October and represent Asia in the world championship.
Twenty-one year old Thinh, who was born in Hai Phong, won the competition's Vietnamese round last month.
"I think that, in order to win, you have to keep up with the latest fashions in hair design around the world and come up with something that is very true to life", Thinh said about his victory.
The organizers of the Asian final, held in Viet Nam for the first time, were the local magazine Dep and the Italian hair care company Davines.

Related article:
International Hair Design Contest hosted in Viet Nam