An earthen vase made at Tran Minh Kinh's workshop, a Bat Trang vase by Chuc Hung and a lacquer bowl by Kim Ma have won the 2006 "Seal of Excellence" (SEAL) for Handicrafts in Southeast Asia.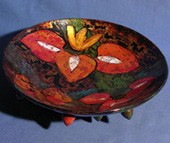 Lacquer bowl by Kim Ma
Gaining the SEAL recognition is a fitting reward for the Vietnamese artisans who gave their country third place in the annual awards behind Thailand with seven SEALs and Indonesia with six.
The vases and lacquer bowl will be displayed on the website of the ASEAN Handicraft Promotion and Development Association along with some useful marketing tips and commercial opportunities from UNESCO, which initiated the SEAL awards six years ago in partnership with the association.
There are six main criteria for a Seal of Excellence: innovation, authenticity, marketability, eco-friendliness, social responsibility and of course excellence.
The aim of the SEAL program is to encourage craftsmen and women to use traditional skills and materials to create innovative, marketable craft products so as to ensure the perpetuation of traditional values and knowledge and to preserve cultural diversity.