The 70-episode Huyen Su Thien Do (Legendary History of the Capital's Relocation) scripted by Nguyen Manh Tuan and directed by Dang Tat Binh and Pham Thanh Phong will be aired on VTV3 channel on April 21.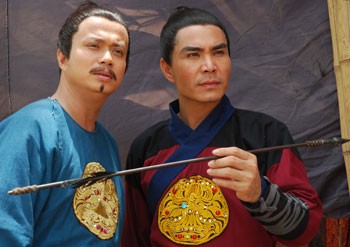 Actors Ba Anh (L) and Trung Dung in the film (Photo: SGGP)
The film depicts events taking place at the end of the Pre-Le Dynasty and at the beginning of the Ly Dynasty, especially focusing on King Ly Cong Uan who moved the capital from Hoa Lu ( present day Ninh Binh Province) to Dai La Citadel (Thang Long and present-day Hanoi) in the fall of 1010.

The series is o¬ne of several features and TV films made since 2009 to celebrate the 1000th anniversary of Thang Long-Ha Noi. Unfortunately, it could not be released during the millennium celebrations.

The film left a deep impression on audiences in its debut viewing of its first volume in Ho Chi Minh City last week and received high praise from experts and insiders.

Huyen Su Thien Do is expected to be an attractive and high quality historical film and hopes to foster a love for Vietnamese history amongst the people.

This TV series produced by the Vietnam Feature Film Studio 1 and Sao The Gioi Co (World Star Group) will be presented at 9 pm on Thursday and Friday, each week.