A Vietnamese woman, Vu Thi Hoang Diep, has come third in the online voting of Miss International Beauty 2009 with 1,600 votes, the pageant announced July 7.

Third place also went to two other contestants from Russia and Mongolia. 
Second place was taken by contestants from Belarus, South Korea and Poland.  
The 19-year-old Pacheco Montanez Darli Arni, from Puerto Rico, topped the online voting.
The contestants visited three venues in Xinjiang Province, China, including Turpan, Aksu and Artux on July 6.  
Later, they will have a few days training and carrying out activities before the contest's final rehearsals on July 24 and 25. The final starts on July 26. 
Diep said she was quite relaxed and confident with the online result and expected to gain more success.  
She has previously won much success at other beauty pageants, including Miss Sea 2007 and Miss Vietnam 2008. 
Recently, there have been media reports about deadly ethnic violence on Urumqi's streets, the provincial capitol, but the organizers announced that the contestants will be kept away from the problems.  
Despite the unrest, the contest will still be held, the organizers confirmed.
Miss International Beauty Pageant, founded in 1973, aims to symbolize beauty and harmony for different nationalities, bring about friendship across the world and to promote world peace.
Miss International Beauty Pageant 2009 has attracted 43 contestants from around the world.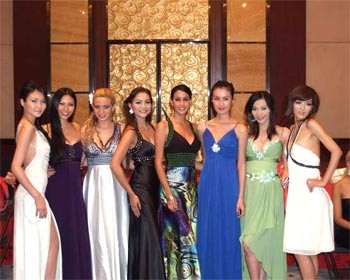 Diep (4th left) in evening dress poses for a picture with other contestants (Photo: Courtesy of P.L Model)