A special performance of Vietnamese and Japanese royal music, Nha Nhac and Gagaku, will be held at Thai Hoa (Supreme Peace) Palace in the Hue Imperial Citadel on July 17, said the Hue Relic Preservation Center recently.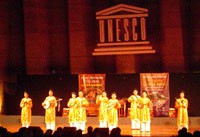 A performance of Nha Nhac (Hue royal court music)
The Tokyo New City orchestra and four other Japanese artistes will be on stage together with Vietnamese performers from the Hue Royal Traditional Theater.

Gagaku is a type of Japanese classical music that has been performed at the imperial court for several centuries.

Nha Nhac (Hue royal court music) was recognized by UNESCO as intangible cultural heritage, and has been named in a 90-strong Representative List of the Intangible Cultural Heritages of Humanity.

Tokyo New City, under conductor Akira Naito, had earlier performed in Ho Chi Minh City's Conservatory of Music on July 14.