Making Vietnamese literature known throughout the world is a great desire for most Vietnamese readers and writers. However, the export of literature is not easy for book distributers and publishing houses.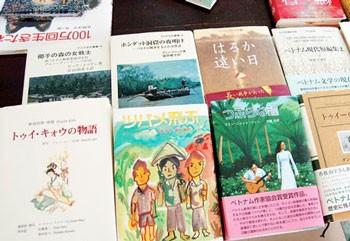 Very few Vietnamese books are translated into Japanese
To discuss the situation, an international conference to promote Vietnamese literature will be held at the end of the year, the Vietnam Writers Association recently announced.
The association's organization committee has already received many suggestions and ideas, such as an anthology of the best and outstanding works, which have a high literary value and reflect the situation of Vietnamese literature through various periods.
The anthology could be compiled by a team of editors who are talented writers, critics and researchers.
One of the most important problems, however, is translation.
Tran Duc Lam, director of The Gioi (World) Publishing House, the leading publisher in translation of Vietnamese literature, said that translators must have excellent translation skills and knowledge of literature to help readers perceive the good points of Vietnamese literature.
Building a national action program, including translation funding, publishing books in foreign countries, bringing writers and researchers for cultural exchanges to promote Vietnamese literature to the world, are effective tools, which have been used successfully around the world, such as Poland, Japan and South Korea.
In one example of cultural exchanges, Japanese Prof. Mitsuyoshi Numano introduced the history and characteristics of Japanese literature from ancient times to the 21st century in seminars on Japanese literature in Vietnam's biggest cities, including Hanoi, Hue, Danang and HCM City from September 16 to 20.
In another example, French novelist Marc Levy came to Vietnam for lectures and meetings with readers in Hanoi and Ho Chi Minh City in October 2008.
In addition, the connection of cultural promotions and trade should be encouraged with the support of businesses.

Related Article:

Little Vietnamese literature read overseas