A Vietnamese model, Vo Hoang Yen, will leave Ho Chi Minh City August 1 for the Miss Universe 2009 pageant, which is to be held in the Bahamas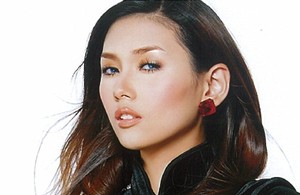 Vo Hoang Yen believes that she will bring the Miss Universe 2009 crown to Vietnam
Two Vietnamese designers, Nguyen Cong Tri and Dinh Van Tho, have finished all the designs for her appearance at the contest. Yen will take 40 costumes to the pageant, including casual wear, evening dress and national costume.  
Talking about the costumes, designer Tri said that all his twelve designs were inspired by the stories of mermaids, with the main colors of orange, yellow and blue. Some of his formal black and white designs will also be worn by Yen.   
Meanwhile designer Tho hopes to bring the image of Vietnamese legendary dragons into Yen's national costume. The luxurious costume, with yellow and white crystals, is expected to add to showcasing Yen's body and bring Vietnamese fairy tales to the world.  
Talking to SGGP, Yen said: "I had very hard training before the contest. And probably, I believe that with all my preparation and support from Uni Corp., success at the pageant is a must. Now, I'm so hungry for the crown."  
At present, Yen is second for the online voting at the official website of Miss Universe Organization:
http://www.missuniverse.com/members/contestants
In the Bahamas, Yen will have four days preparation before her fist official first shoot with 88 contestants. Her shoots will take place on many islands, including Bimini, Exuma, Eleuthera, Abaco and Grand Bahamas.  
The contestants will have plenty of activities set by the organizers, with performances in swimwear, national costume and fashion designed by local designers, shopping, meeting senior Bahamian officials and a charity auction for an HIV/AIDS organization. 
The final will be fired up on Paradise Island at 9pm on August 23 (local time).  
Some international artistes confirmed to perform during the live telecast of the pageant are rapper Flo Rida, Heidi Montag from MTV's series The Hills, DJ David Guetta and ex-member of Destiny's Child, Kelly Rowland.  
American TV company NBC is in charge of broadcasting the show. 
The winner, besides being crowned "Miss Universe 2009," will receive an expensive crown designed by the famous US-based Diamond Nexus Labs and move to New York with all costs supported by the Miss Universe Organization. 
Related articles:

Preparations for Miss Universe contestant nearly complete
Supermodel to represent Vietnam at Miss Universe