Model Ngo Tien Doan, winner of the 2006 Manhunt Vietnam beauty contest, this week became the first Vietnamese to win the Mister International Pageant.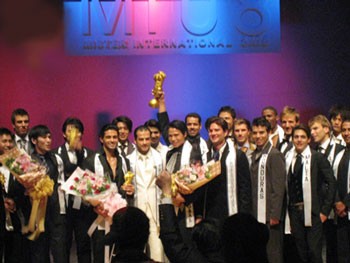 Ngo Tien Doan holds up his trophy of the pageant in Taiwan
Mohamad Chamseddine of Lebanon took out second place in the 2008 international male beauty pageant and Zhang Chao of China was third.
Among the prizes awarded to the 1.83-meter-tall Doan, 25, is US$5,000 in cash and the unlimited use of a house in Singapore for one year.
Doan scored high marks for the traditional costume he designed to wear in the contest, as well as for his performances in the talent, interview and sport sections of the competition.
The 2008 Mister International Pageant, held in Taiwan from November 15 to 24, attracted 34 contestants from around the world.
To take out the title, contestants have to have a good body, talent, an aptitude for sport, a kind heart and suitable career achievements.

Related article:
Tien Doan to Represent Viet Nam Vie at Mister International