Some people reckon Vietnamese music is sorely lacking in quality and deem it unworthy of respect. They then suggest that once the nation's economy has been integrated into the global arena, as it were, its culture will follow suit, and that is why the music should be taken seriously.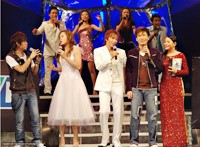 Vietnamese singers perform together in a concert
In the early 1990s, a foreign music wave crashed onto these shores. Names like Sting, Michael Learns to Rock, Boney M, Bryan Adams and The Moffats, acts who had only been known through their recordings and newspaper articles, arrived in the flesh but seemingly like visitors from another world.
After the Americans and Europeans came the Asian stars such as Leon Lai, Jang Dong Gun, Ruby Lin, Vicky Zhao, Bi (Rain), Korea's 4Men, Seo Ji Young, the beautiful MTV presenters May and Choi, and the supreme Yu Ming.
The invasion was like a fresh breeze to pop fans and gave the local acts and concert promoters a chance to learn professional ways of working.
Vietnamese singers are looking abroad for direction
My Tam's signing by a Korean company, Kasim Hoang Vu waiting for his first appearance on MTV Asia, Dan Truong's first live show in Taiwan and other such instances bode well for the future of Viet Nam's music industry.
Many music fans hope to see Vietnamese singers standing tall on the international stage, and an appearance on MTV Asia would be a decent first step. But even to get on MTV the local music industry needs to build a solid foundation for songwriting, performing and concert promotion.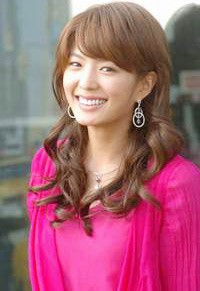 Korean singer Seo Ji Young
In a sense there is a blurred boundary between Vietnamese music on the one hand and Indonesian, Malaysian, Thai, even Korean or Japanese music on the other. But an important aspect of the others is that their music industries have a strong foundation, are tightly regulated by their governments, copyright and royalties are taken seriously, and the people involved in the music scene are better educated.
As the first step in staking a permanent place in the integrated playground, Viet Nam needs to draw up a comprehensive plan with the emphasis on training in composition, performance and promotion. In respect of managing the music industry, the government should formulate clear policies and strategies for industry's future direction.
"Full integration would require both songwriters and singers to master Vietnamese culture. For example, if MTV were to come here, it would have to be done in a way that doesn't ignore Vietnamese traditions," said Mrs. Nguyen The Thanh, deputy director of Ho Chi Minh City's Department of Culture and Information.
Songwriter Vo Thien Thanh has a particularly commercial view of it all. "Appearing on MTV is only a matter of time. We are now a member of the World Trade Organization, so every song, every composer, every singer will have to compete with what comes from outside. If we are not good enough, demand will shift to our partner's products; we will be nothing but a lucrative market for others," Thanh said.
Rock act Nguyen Dat thinks in a similar vein. "To integrate into the world, into the economic or commercial area, we need songs written in English and singers who can sing English songs. Not everyone can write songs in English though many can convey the spirit of Viet Nam. My hope is that a better-educated next generation will be more active than us in this respect," Dat said.
 "Now that we belong to the World Trade Organization, we need be tougher about protecting intellectual property rights. This requires training, perhaps from abroad, so that we can have professional composers who can write pop, rock, R&B and hip hop. We must not lag behind, not be out of date. Language is also very necessary for integration, and not just with music," the singer Lam Truong said.