Vietnamese painter Tu Duyen (born Nguyen Van Duyen) passed away on May 3, 2012.
Tu Duyen was born in 1915 in Bac Ninh Province and graduated from the Indochina Fine Arts College in 1938. He became a member of the Vietnam Association of Fine Arts.
He was renowned for his works based on the folk poems Chinh Phu Ngam, Truyen Kieu and UNESCO cultural heritage sites of Hoi An, My Son and Hue Citadel that were displayed in Vietnam, France and Ireland.
Tu Duyen once said the course provided a good opportunity to learn from international artists and complete his dream of "making journeys into the past" to create paintings based on the country's heritage.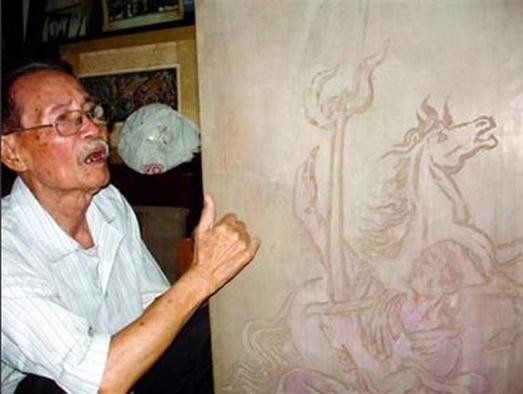 Vietnamese painter Tu Duyen
Since 1939 the painter lived in Ho Chi Minh City and achieved much success in his art career.
In 1942, Tu Duyen successful made a production of the first hand-stamping on silk that was regarded as a breakthrough in the art of painting.
In the 1950's, the "hand-stamping on silk" by Tu Duyen was recognised nationwide.
In 1955, his painting "Tran Binh Trong" won the first Fine Arts Prize in southern Vietnam.
In October1998, he travelled to Italy, France and Germany and organised a Group exhibition in Brussels, held by the European Committee, with funds and contributions of US$1 million from European organisations and individuals.
He made public nine collections of paintings and 52 wood-engravings. His works appeared in various museums at home and abroad and also in the private collections of US billionaire Rockefeller and Cambodian Royal King Sihanouk.