Photographer Duong Quoc Dinh won first prize at the Giuliano Carrara International Photographic Competition in Italy.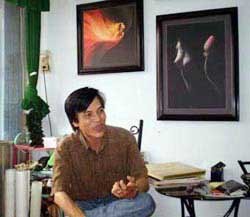 Photographer Duong Quoc Dinh and his works
Mr. Dinh photographs "Wind's word," "Optimism," and "Peace 1 & 2" triumphed over more than 4,000 other works by 368 authors from 33 countries and was named the best collection in six categories.
He received a single lens reflex camera worth 2,500 euros (US$3,900) and a gold medal at a ceremony that took place in Pistoia, Italy. This is the first time that a non-Italian photographer won the title since the contest was first held in 1996.
Mr. Dinh was born and grew up in the southern province of Dong Nai, 30km from Ho Chi Minh City. He was introduced to painting when he was five, but now the camera has completely replaced the brush. Mr. Dinh holds 30 medals for nude photos of competitions in the country and abroad. This is a record among Vietnamese photographers.

Last year, in the black-and-white category, Mr. Dinh won the highest honor for a set of photos, the Golden Cup of the Photographic Society of Hong Kong, for his collection "Afternoon Dream." He won a Bronze Cup for "Bath!" and a bronze medal from the Fédération Internationale de l'Art Photographique for "Word of Wind 2".