Photographers Dang Ke Duc and Dang Ke Dong from the central province of Quang Nam won gold and silver medals for their colour photos at the International Federation of Photographic Art (FIAP) awards in Serbia.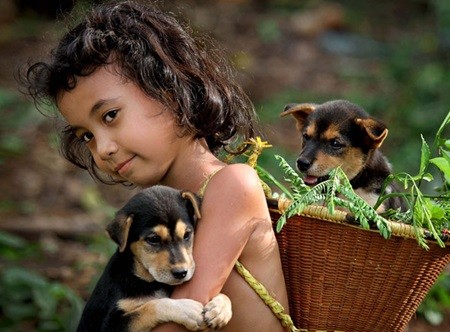 Golden photo: A photo titled Than Quen (Friends) by Dang Ke Dong from Quang Nam Province won silver medal at the International Federation of Photographic Art Awards in Serbia. — Photo courtesy of Quang Nam Newspaper
Duc's photo, Vu Mua (Harvest), depicts farmers collecting straw in paddy fields as the last rays of a summer's day settle.
The cloud-filtered sun sets the female farmer's red shirt afire, backgrounded by smoke wafting from burnt straw in the field. The image took first place.
Following close behind with silver was Dong's photo of an ethnic minority boy, playing with two little dogs on a trip to the farm.
The beaming boy carries a dog in a rattan basket on his back, and holds another dog against his chest.
The two photographers, who are members of the central provincial Literature and Arts Association, entered the competition alongside 313 photographers from 61 countries, with 5,100 photos.
Several Vietnamese photographers have earned international praise this year. In April, photographers Bui Vy Van and Nguyen Ngoc Thach won gold medals at the International Photographic Exhibition Han Pijesak in Bosnia and Herzegovina.