"Warm Wood Stove" by Nguyen Thanh Thao and "Early Morning on the River" by Le Chau Dao have won bronze medals in the Frace Photographic Club Hong Kong of Salon 2006 competition.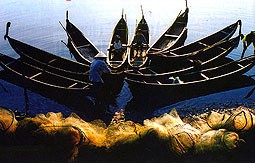 "Early Morning on the River" by Le Chau Dao
The annual contest organized by FIAP (Fédération Internationale de l'Art Photographique) attracted more than 2,050 entries from 34 countries this time around.
Viet Nam's photographers have been doing well in international competition for years now.
Just last month Hong Kong winner Le Chau Dao scored a Medal of Credit in the 15th International Artistic Photo Festival organized by the Macau Photographic Association with a picture titled "Working in a Hurry".
That was two months after "Waiting" by Duong Thanh Xuan won a top prize in Japan's Sagamihara contest.
Perhaps it's a coincidence, perhaps not, but the three award-winning camera artists all hail from Chi Thanh, a town in Tuy An District, Phu Yen Province.