Playwriter Kim Cuong, a famous drama actress, has requested that the Vietnam Copyright Service Company (Vietcopyright) file suit against U.S.-based Thuy Nga Music Center for copyright infringement.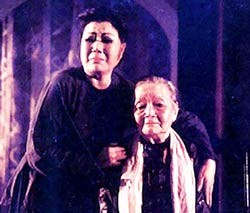 Actress Kim Cuong (L) and her mother People's Artist Bay Nam, in the play "Durian Leaf".
Thuy Nga, a well-known music distributor to the overseas Vietnamese community, recently released a DVD of Kim Cuong's "Durian Leaf" without her permission.
Vietcopyright will cooperate with its partner, a law office in the U.S., for this lawsuit, said Mr. Duong Duy Lam Vien, director of Vietcopyright.
Papers will be served to Thuy Nga Inc on Saturday, he added.
"Durian Leaf," written by the actress in 1963, is one of the most successful plays performed by the Kim Cuong drama troupe and has attracted many devotees.
"The play is a heirloom which is dedicated to my late mother and and only performed in very special events under my permission", said Kim Cuong
Kim Cuong' mother is late actress Bay Nam, who played a leading role in the drama. She is one of the famous actresses in the country and was granted the title People's Artist, the highest award for honoring actors