An exhibition named, "Vietnamese Press – Establishment and Development Process," displaying historically important Vietnamese journalistic works, kicked off in Hanoi on June 16, marking the 85th anniversary of Vietnam Revolutionary Press (1865-1954).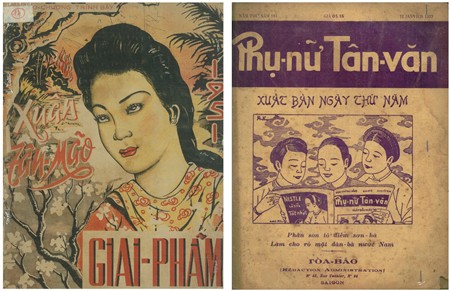 Two newspapers are displayed at the Vietnamese Press Exhibition in Hanoi.
The sachxua.net forum, the Hanoi Library, and the East-West Culture and Language Centre hold the exhibition jointly.
The third exhibition introduces Vietnam's first newspaper, the Gia Dinh, published from 1895 until 1954, through more than 100 precious writings that are persevered past many years. The first two exhibitions were both held in Saigon in 1943 and 1966.
Visitors have chance to enjoy newspapers such as Gia Dinh, Phu Nu tan van, Phong Hoa, Ngay nay, Tieu thuyet thu hai, Giai pham, as well as valuable and important examples of print journalism, the cameras and press cards used by famous journalists like Vu Trong Phung and Nguyen Huy Tuong.
An original copy of Uncle Ho's letter written to southern people in 1946 and published in the Cuu Quoc Newspaper is also on display at the exhibition.
There will also be a seminar to evaluate the role of journalism in the country's history between 1865–1954, with participation of researchers.
The exhibition will end on June 20.