Ten Vietnamese short films will be screened at Meta House in Phnom Penh in Cambodia this September, as part of Yxine Film Festival 2010, which aims to promote independent cinema in Southeast Asia.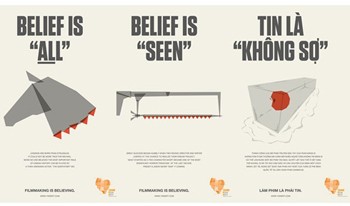 Poster of Yxine Film Festival 2011
The selected films chosen to be screened are Thinking Of You, Up In The Tree, The Journey Unknown, Garden, Mother and children, Oh Mommy!, Being confined, Behind the wood door, Les cheveux qui poussent à l'envers and Cut.
The short films have been divided into three categories, namely, past award winning films, family life themes and films touching innovative and sensitive subjects.
The screening of the films is aimed at promoting Vietnamese films and connecting film producers in the Southeast Asian region, said head of the organizing board of the Yxine Film Festival.
Preparations are also on for the next Yxine Film Festival in 2011 themed 'BELIEF', for which film entries are being reviewed from May 29 to September 15.
The opening ceremony of Yxine Film Festival 2011 will be held at the Megastar Cineplex in Ho Chi Minh City on December 31.
Yxine Film Festival is a voluntary, non-profit and independent organization. The goal of the Film Festival is to introduce and showcase new films to international audiences. In addition, it aims to form a community of filmmakers to strengthen the voice of independent cinema. More details of the organization are available on its website, www.yxineff.com.