Fashion designer Vo Viet Chung will participate in the Asia fashion week 2011 in Thailand on July 5-11.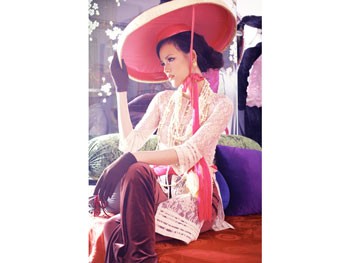 A design of the Nguoi luc tinh collection by Vo Viet Chung.
The fashion week themed "Silk, Asian heritage" organized by the Sustaining Thai Art and Culture internationally, will attract more than 15 countries.

The designer will present two collections titled Nguoi luc tinh (southerners) and Co Ba xu Viet (Ms. Ba from Vietnam) featuring costumes of women in South Vietnam.

His "Mrs. Ba from Viet Nam" (Co Ba xu Viet) collection, comprising 15 outfits made of silk and Lanh My A, was voted one of the top five collections from 30 of the world's leading designers in the Silk Festival in Shanghai, China in 2007. The show was broadcast live on Fashion TV and CNN channels.

Vo Viet Chung became the first Vietnamese designer to win an award from UNESCO for his work in preserving Lanh My A, a rare traditional fabric of southern Viet Nam.