More than 200 Vietnamese singers from home and abroad will participate in the 5th Singer's Day in Ha Long Bay from January 17 to 19.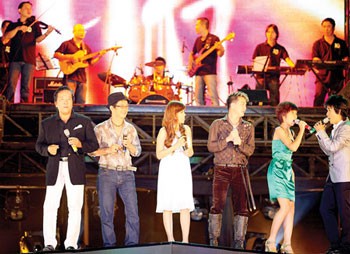 Children enjoy reading books at a book exhibition in 2006 in HCMC. This year
Musician Le Quang, a representative of the organization board said that all singers would gather at Ha Long to promote and present the site to UNESCO as a new World Wonder of Nature.
Singers will use the opportunity to cruise around the bay and take in the breath taking and spectacular landscape. They would also be offering gifts to the poor people living in fishing villages.
A seminar has also been planned on how to further singing careers and to discuss the cultural responsibilities of celebrities towards communities and other singers.The event will certainly be an opportunity for Vietnamese singers, musicians, directors and editors to mingle and share their experiences and exchange notes.
Many famous actors and actresses like Chi Bao, Quyen Linh, Truong Minh Cuong, Hong Anh and Mai Thu Huyen are expected to participate in a Gala dinner and charity auction in aid of child heart patients of Quang Ninh Province.