Vietnamese singer Duc Tuan won a prize for best-loved contestant and most brilliant performance at the 2012 ASEAN Television Golden Voice Festival held in Ho Chi Minh City on March 5.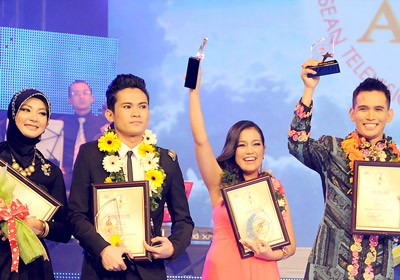 Two Indonesian singers (3rd, 4th from left) win first prize at the ASEAN Television Golden Voice Festival 2012 in HCMC on March 5 (Photo:SGGP)
The awards ceremony of the Golden Voice Festival was aired live on HTV9 channel in the city, on evening of March 9.
First prize went to Malaysian singers Olivia Hutagalung and Muhammad Inanta Kusuma and two singers from Indonesia.
The second prize went to a Malaysian singer for light music and to Thanh Ngoc, a Vietnamese singer of folk music, while third prize went to a singer from Brunei for light music and one from Thailand, for folk music.
Van Sotheary from Cambodia and Phoungeune Bouathong from Laos received consolation prizes.
Earlier, Vietnamese singer Thanh Ngoc, wearing the traditional ao tu than, performed a traditional dance skit for the opening ceremony of the Festival in HCMC on March 5.
The ASEAN Television Golden Voice Festival 2012 is the third event of its kind that was co-organised by the HCMC Television Station and the Cat Tien Sa Company to foster a friendship amongst Southeast Asian countries. 
The festival attracted singers from Thailand, Myanmar, Cambodia, Laos, Malaysia, Indonesia, Brunei, the Philippines and Vietnam.
The jury members included Fathan Hj Anuar, a music producer, singer and MC from Brunei; Rachmasari Nurdin, a singer and director from Indonesia; composer Tran Long An; and singers Ta Minh Tam and Anh Tuyet from Vietnam.