A painting, "The little corner of the street," by Thai Thi Thu Hang won the first prize at the recent 10th International High School Arts Festival at Ueno Royal Museum, Tokyo, Japan, said the Hanoi Department of Training and Education.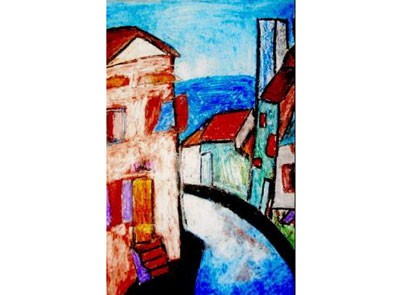 The painting "The little corner of the street" by Thai Thi Thu Hang.
Thu Hang is an 11th grade student at Nguyen Tat Thanh High School, part of the Hanoi University of Pedagogy.
The annual festival is a chance for high school students, from both Japan and abroad, to show their fine art talents.
This year' s competition, held from July 29 to August 2, attracted about 6,000 contestants from 13 countries, including Japan, Myanmar, Ireland, Laos, Cambodia, Vietnam, the UK, Australia, Singapore, Israel, China, Senegal and Egypt.