Marie-Christine Saragosse, the chief executive officer of the French language network TV5MONDE has announced that Vietnamese subtitles will be available for four hours every day for their Asian programs.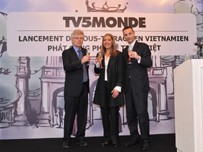 Officials of television channel TV5MONDE at a ceremony launching its new feed with Vietnamese subtitles in Hanoi.(Photo:Thanh Nien)
Vietnamese is the first local language to be used by TV5MONDE Asia for subtitling.  The channel is available on major cable networks like VCTC, SCTV and HTVC as well as via satellite digital terrestrial broadcasting by K+, VTC and VASC.

With some five million household viewers within the country, Vietnam becomes the second largest market for TV5MONDE after India, which has 10 million viewers. Representatives of TV5MONDE said that all Vietnamese operators having TV5MONDE Asia channels have agreed to switch to the new signal.

Inaugurating the occasion, TV5MONDE Asia is showing a Vietnamese film called "Mua Oi" (guava house) by Vietnamese director Dang Nhat Minh with French subtitles from April 4.

TV5MONDE is a free channel and airs in 25 million homes around the world.