Two of Vietnam's top models, Nguyen Binh Minh and Pham Thanh Hang, will represent Vietnam at the Great Singapore Shopping Challenge 2009 on May 30.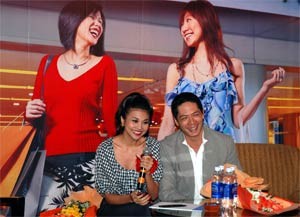 Thang Hang (L) and Binh Minh at a press briefing May 21 (Photo: Courtesy of Megastar)
The Vietnam team will compete with 10 local teams from Singapore and 19 teams from countries and territories including Thailand, Malaysia, China, Hong Kong, India, Australia and the UK. 
The winning team will receive S$10,000 (US$6,900).  
Each team will be given tasks at various locations. The team that completes the challenge within 3 hours and the least amount of money spent wins.  
All contestants will keep the items bought during the Challenge. 
The Great Singapore Shopping Challenge is an annual shopping challenge held by the Singapore Tourism Board since 2004, and is the opening event of the Great Singapore Sale, which lasts from May 29 to July 26.
During the promotion, visitors can find discounts of up to 70 percent at participating stores.