French Ambassador Hervé Bolot has awarded the second class Order of Academic Palm to translator Hoang Huu Dan for his contributions to education and literary translation.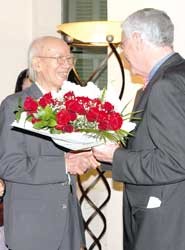 French Ambassador Hervé Bolot (R)awards the order to Hoang Huu Dan

He has a 51-year passion for reading and translating many famous books from French into Vietnamese, for example plays by Corneille, Racine, Victor Hugo, Moliere, fables by Fa Fontaine and Greek literature such as the Iliad and Odyssey, as well as plays by Aristophanes and Aeschylus.
He has also translated more than 15 Vietnamese books into French which have been highly praised by readers.
In addition, Professor Hoang Huu Dan is the writer of the plays "The Secret of Le Chi Garden", "Nguyen Du Girl", and "Indispensable Meeting".
The translator received the third-class Academic Palm-branch Medal in 2000.