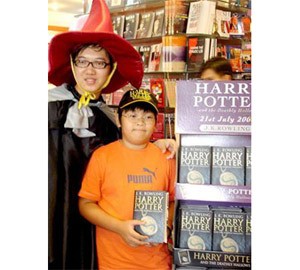 The last volume of the Harry Potter series simultaneously go on sale, in English, in Viet Nam and worldwide on July 21.
Youth Publishing House will release a Vietnamese version of Harry Potter and the Deathly Hallows at 7:07 a.m. on October 27.
The recommended retail price will probably be VND105,000.
To make life more interesting for the boy wizard's legions of fans, Youth Publishing House is running a competition to guess the title of and the number of pages in the Vietnamese version.


Related articles:

Harry Potter Fever in Viet Nam
Harry Potter's Final Tale Arrives in Viet Nam
Viet Nam to See Simultaneous "Harry Potter and the Deathly Hallows" Release