Vietnamese actress Hong Anh won the "Best Actress" section of the Asia-Africa Awards at the fifth Dubai International Film Festival in the United Arab Emirates, which wrapped up on December 19.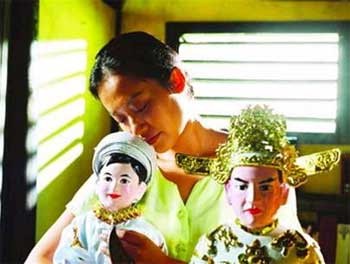 Actress Hong Anh in the film "Moon in the Bottom of the Well"
Anh became the first Vietnamese actress to win the honorary title at the prestigious film festival for her role as Hanh in the film Trang noi day gieng (Moon in the Bottom of the Well).
In the same Asia-Africa category, the "Best Film" award went to "Treeless Mountain" directed by Korea's So Yong Kim and "Best Actor" was awarded to Askhat Kuchinchirekov for the film "Tulpan" directed by Kazakhstan's Sergey Dvortsevoy.
The "Best Film" title of the Arab Awards was "Masquerades" by Algerian director Lyes Salem
"Moon in the Bottom of the Well" was screened at the festival to compete for the Asia-Africa feature film prize, along with 14 other movies.
The picture, directed by Vinh Son, was produced by the Giai Phong and Alliance Film Studios with financial backing from France's Fonds Sud and Fond Francophonie.
It was screened at the Busan International Film Festival in the Republic of Korea in August and the 37th International Film Festival Rotterdam 2008 in the Netherlands in February.
The Dubai film fest, themed "Bridging cultures, meeting minds," runs from December 11 to 19 with 186 films from 66 countries.