On October 12th, Thai Princess, Sirivannavari Nariratana, presented the Southeast Asian Writers Award to Tran Van Tuan, for his book Rung Thieng, Nuoc Trong (Holy Forest, Pure Water).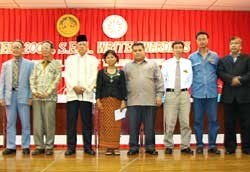 Writer Tran Van Tuan (3rd,R) and other poets and writers in the region at the award presentation on October 12.
The award was also offered to other poets and writers including Haji Moksin from Brunei; Oum Suphany from Cambodia; Suparto Brata from Indonesia; Rattanavong Houmphanh from Laos; Rahman Shaari from Malaysia; Michael Coroza from Philippines; Rex Shelley from Singapore and Montri Sriyong from Thailand.

On behalf of the Thai Royal family, the princess congratulated those awarded the writers awards, recognizing their efforts in strengthening the relationship between the ASEAN's countries.

In his speech, writer Tran Van Tuan, deputy editor in chief of the Sai Gon Giai Phong Newspaper, said that the award is a great honor for him as well as for Viet Nam's unique culture. It reminds writers to persistently promote and develop their creativity in art and literature.

The winners had formal discussion time with readers at the Thai national library. Many Thai readers were interested in the Vietnamese writer's career in literature and his experiences of fighting during the Viet Nam War.

Mr. Tran Van Tuan and other winners also joined a discussion about the difficulties with literary works in the digital age. The meeting came to a conclusion with the winners taking a tour around the Thai capital, Bangkok.

Related article:
Vietnamese Writer Receives SEA Writers' Award