Writer Tran Van Tuan, deputy chief- in- editor of the Sai Gon Giai Phong Newspaper, will visit Thailand this week to receive the Southeast Asian (SEA) Writers' Award for his book Rung Thieng Nuoc Trong (Holy Forest, Pure Water).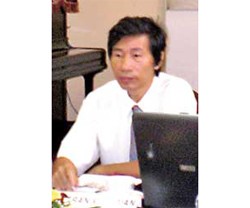 Writer and deputy chief - in-editor of the SGGP Newspaper Tran Van Tuan
The book was selected and sent to event organizers by the Viet Nam Writers' Association. For his work, writer Tran Van Tuan will be offered a certificate of merit and US $2,200.
The events organized for the SEA Writers' Award ceremony will take place from October 7 to 13. The highlight of the event will be a Gala dinner, attended by Princess Sirivannavari Nariratana, at the Thai Royal Orient Hotel on October 12.
The SEA Writers' Award has been presented annually since 1979 to poets and writers in Southeast Asia by Thai Royal.
There have been 11 previous Vietnamese winners of the award, including famous poet To Huu, the first Vietnamese writer to be given the honorary title.