Thanh Hoa, a Vietnamese-Australian national, who is currently a manager of a restaurant, was declared winner of the first season of 'MasterChef Vietnam 2013' on July 19.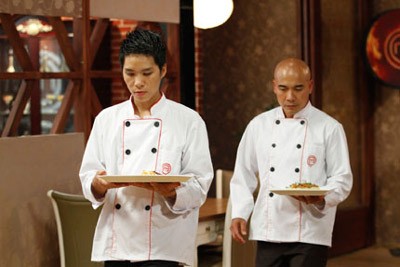 Quoc Tri (L) and Thanh Hoa (Photo: SGGP)
The winner will receive a cash prize of VND500 million, a MasterChef Cup and an opportunity to publish his own cookery book.
The climax night brought a competition between the final two contestants, Thanh Hoa, 40, and Quoc Tri, 19.
They spent two and a half hours to finish the course menu of an aperitif, main course, and a dessert.
MasterChef Vietnam is a Vietnamese Cooking Game Show based on the original British version of MasterChef.