Pham Linh Dan, a French actress of Vietnamese origin, has been awarded a 'Knight of Arts and Letters' order by the French Ministry of Culture in recognition of her contributions in arts and literature.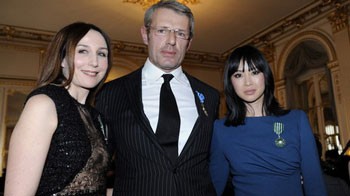 Actress Linh Dan (R)
Linh Dan was born in 1973 in Sai Gon and then moved to France for permanent settlement with her family when she was one year old.
Linh Dan first stepped into the field of art when she was 18 years old, acting an orphan girl, Camille, who returned to Vietnam to seek her origin, in the 1992 Oscar -winning movie Indochine , directed by Regis Wargnier . She received a César nomination for the most promising actress for that performance.
The girl studied acting skills at the Lee Strasberg Theatre and Film Institute in New York , US . In 2005, Linh Dan made a return to play the part of a piano teacher called Lu Ann in the film The Beat That My Heart Skipped , of director Balekdjian. The role helped Linh Dan win the most promising actress at the 31 st César award one year later.
She then starred in her first Vietnamese production when she appeared as a female writer named Cam in the 2009 film Choi voi ( Adrift ) by director Bui Thac Chuyen.
'Knight of Arts and Letters' (The Ordere des Arts et des Lettres) was initiated by the French Ministry of Culture in 1957 to honour individuals who have great contributions in arts and literature.
World-acclaimed artists who were presented with the order included French choreographers Paul Taylor and Rudolph Nureyev, singers Bob Dylan and David Bowie, and Hollywood stars George Clooney, Leonardo Di Caprio, Clint Eastwood, Robert Redford, Meryl Streep, Sharon Stone and Bruce Willis.