Vietnamese-French Sopranist Alain Vu, one of the seven most outstanding contemporary sopranists in the world, will perform at the Ho Chi Minh City Music Conservatory on July 21. The concert will raise scholarship fund for disadvantaged students and young talents.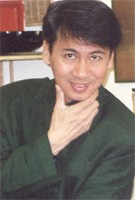 Alain Vu
Alain Vu will perform works of Handel, Gluck, Vivaldi, Mozart, Saint-Saens and Vietnamese songs, including Co Gai Vot Chong (The Girl Making Bamboo Spikes) by Hoang Hiep, Doi Dep Bac Ho (Uncle Ho's Rubber Sandals) by Van An, and Bai Ca Hy Vong (The Song of Hope) by Van Ky.
In addition, Vu and artist Mang Thi Hoi, vocalists Anh Tuyet and Anh Bang will perform together in the concert.
Alain Vu graduated from the Paris National Conservatory in France and the Daymok Vocal Music School in Sydney, Australia.
He won international prizes, including first prizes for vocal music in the "Ile de France" concours in 1997, "Concours International" in Marmande, France in 1998 and "Concours International" in Australia in 2000.
Alain Vu also was cast as Cherubino in the opera The Marriage of Firago by W.A.Mozart and Siebel in Faust by Charles François Gounod. He has had his worldwide tours to France, Belgium, Italia, Australia, Germany, Spain, etc.