A literature contest themed "Vietnam and Laos in my heart", jointly organized by the Nhan Dan newspaper, the Ministry of Education and Training, the Ho Chi Minh Communist Youth Union and the Vietnam-Laos Friendship Association wrapped up yesterday in Ha Noi. 
 
Truong Tan Sang, member of the Politburo and standing member of the Secretariat, on behalf of the organizers, bestowed prizes to winners.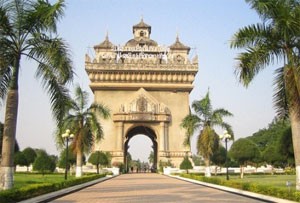 The Patousai Monument or Arch of Triumph in Laos
The contest was launched on July 18 to commemorate the 30th anniversary of the Vietnam-Laos Friendship and Cooperation Treaty, July 18, 1977, and 45 years of diplomatic relations between the two nations, from September 5, 1962. 
 
By the end of October, organizers had received over 1.2 million submissions from individuals and groups all over the country, of which 82 works were selected by the organizers for prizes. 
 
The first collective prizes were awarded to the officers and soldiers of Quyet Thang Multi-Battalion. Students of the Vietnam-Laos People's Security Institute won the special group prize. And first prize for an individual work was granted to Lieutenant Nguyen Xuan Ninh of the Capital Military School. 
 
Notably, Nguyen Xuan Ninh's writing impressed organizers not only with its content but with Ninh's dedication to his work. It was presented in three different versions, one printed in Vietnamese on pearl paper, another in English and the other in Vietnamese Braille. Ninh said, "I hope many blind people will have a chance to read my work."
 
Eight second prizes were also awarded along with ten third prizes and sixty-one consolation prizes.