Fashion designer Thuan Viet will present his latest collections of Ao Dai (Vietnamese traditional dress) in the Spotlight Asia: Big Cats at American Museum of Natural History in the US on May 23.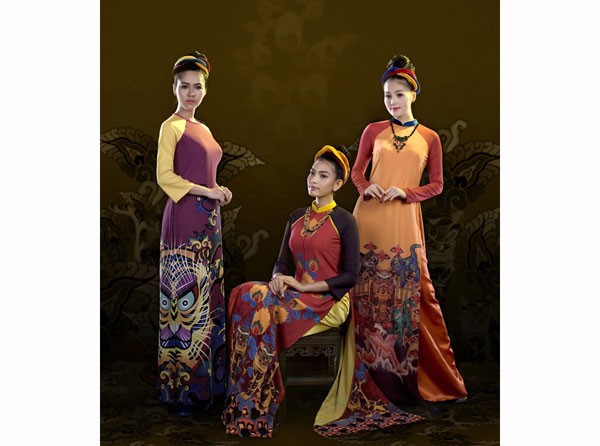 Ao Dai by fashion designer Thuan Viet )
They include a collection representing five basic elements, consisting of metal, wood, water, fire, and earth; and another themed "The color of Vietnamese flower" featuring embroidered veil Ao Dai.

The Spotlight Asia-Big Cats which is made by the New York State Council on the Arts with the support of Governor Andrew Cuomo and the New York State Legislature attracts 8 Asian countries, including Bhutan, China, Indonesia, Iran, Japan, South Korea, Mongolia and Vietnam.
The special event will be a family-friendly day of live theater, musical performances, and hands-on activities featuring big cats and their role in cultures throughout Asia.

The day includes opportunities to explore a beautiful, handcrafted Vietnamese tiger lantern display and try your hand at woodcut painting, tiger-style, with a master artist; ask experts questions about big cats; take a tour of the Halls of Biodiversity and Asian Mammals; design a tiger shadow puppet with Chinese Theatre Works and among.

Across Asia, big cats hold tremendous cultural significance. They represent a unique intersection between nature and culture, and between tradition and contemporary practice. The five members of the genus Panthera are the: tiger, lion, jaguar, leopard, and snow leopard.