A fashion show, "Dem hoi chan dai"(Night of models), will be held for the third time on May 22 at the White Palace Convention Center in Ho Chi Minh City's Phu Nhuan District, Venus Fashion announced recently.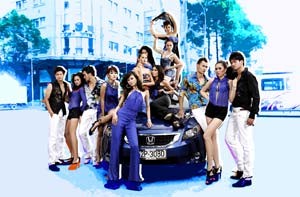 Some models who will participate at the "Night of models" on May 22 at the White Palace Convention Center. The show gathers over 200 national and international models. (Photo: Courtesy of Venus Fashion)
The fashion show is organized by the Venus Fashion, one of Vietnam's leading modeling agencies. 
The show features 200 models, including Tran Thuy Dung (Miss Vietnam 2008), Cao Thuy Duong (Miss Talent at Miss Sport 2007), Ngoc Oanh (runner-up at Miss Tien Phong Newspaper 2000), Hoang Yen (Gold Supermodel at Supermodel 2008) and Vu Thu Phuong (winner of Vietnam Models 2008). 
Miss Thailand Universe 2007, Farung Yuthithum, and ten top models from Thailand and Singapore will also grace the catwalk.  
The highlight of the show is the collection by designer Hoang Hai from Tan Khoa Co. The show also presents some of the newest collections of famous international brands. 
According to Venus Fashion, the show will be "Impressive, surprising and interesting." 
The "Dem hoi chan dai" is held annually by Venus Fashion, sponsored by Grey Goose.  
It is an annual opportunity for the models to meet, have fun and share catwalk experiences.