Vietnam's first sea and island festival kicks off in Dong Hoi City, the central province of Quang Binh, on June 4.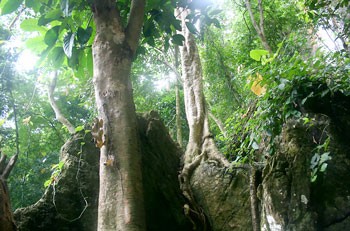 Tau da (Hopea sp) is one of the most common tree species in Phong Nha-Ke Bang national park in the central province of Quang Binh.
The festival also marks the International Year of Biodiversity, World Environment Day on June 5 and World Oceans Day on June 8.

The week-long event will include a series of programs including a fair promoting the sea-based economy and meetings to commemorate World Environment Day and the World Ocean Day.

A sand painting contest for students, an exhibition of photos of oceans and islands and many other activities will be held during the festival.

In related news, an international seminar on biodiversity, included in festival activities, was held on June 3, attended by representatives of more than 20 countries and preservation organizations around the world. 

Scientists have a strong sense that the world is experiencing the fastest die-off rate for species on Earth since the period of the 6th extinction.

Vietnamese scientists and local authorities have pledged to apply Biodiversity Law seriously to preserve and develop the valuable biodiversity resources in the country.

Experts said that the government should enhance people's awareness of the value of biodiversity within the context of socioeconomic development and environmental protection. In addition, the management of national parks and natural reserves should be strengthened.