'Vietnam's Next Top Model' 2011 will kick off at the Riverside Palace convention center in Ho Chi Minh City on August 16 and at The Garden trade center in Hanoi on August 23.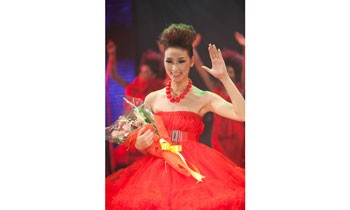 Huyen Trang, winner of the Vietnam's Next Top Model 2010
'Vietnam's Next Top Model' is the Vietnamese interpretation of the US reality television show 'America's Next Top Model' by CBS Studios International.
Young girls between 18 and 25 years of age, of minimum height 1.65m will congregate for auditions at the Riverside Palace Hotel in Ho Chi Minh City and at the Garden Trade Center in Hanoi.
Contestants will compete in a catwalk contest, present their talents and skills and participate in an interview with jury members.
The show is an opportunity for thousands of contestants to compete for the title of Vietnam's Next Top Model and a platform to start a career in the modeling industry.
The jury will select 15 finalists who will live together in a house for two months, while cameras will record their interpersonal relationships. The jury will then choose the winning contestant.
The show will be broadcast live on Vietnam Television, VTV3 channel at 8pm every Sunday. The first show will be aired on September 29.