A local play titled "Stereo Man" performed by actors of Hanoi's Youth Theater, will be presented during the Mekong Arts and Media Festival 2009 in Phnom Penh, Cambodia from November 23 to 27.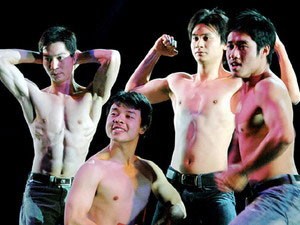 A scene in the play "Stereo man"
Through body language, the play explores the feelings and aspirations of an HIV-infected man while examining social issues, gender, sex, HIV/AIDS, homoeroticism and violence.
The play was first performed by Youth Theater actors, including Nhu Lai, Hoai Nam, Cong Dung and Hoang Tung, in the 2007 Mekong Experimental Theater Festival.
The performance made an impression on Ms. Lea L. Espallardo, director of the Philippines Educational Theater, and dancer & choreographer Agnes Locsin who then enhanced the play adding new messages.
More than 50 performances of "Stereo Man" have been presented for free at universities and colleges throughout the country, as well as in Thailand and India.
The Mekong Arts and Media Festival 2009 held by the Philippines Educational Theater Association (PETA) features a series of cultural events to mark its activities in Cambodia, Laos, Myanmar, Thailand, Vietnam, China and the Greater Mekong Subregion over the past three years.
"We've learnt many useful things from foreign colleagues in the festival, which will give us creativity in our forthcoming projects," said actor Hoang Tung.
This year's event focuses on social issues including gender, sex, HIV/AIDS and family violence.