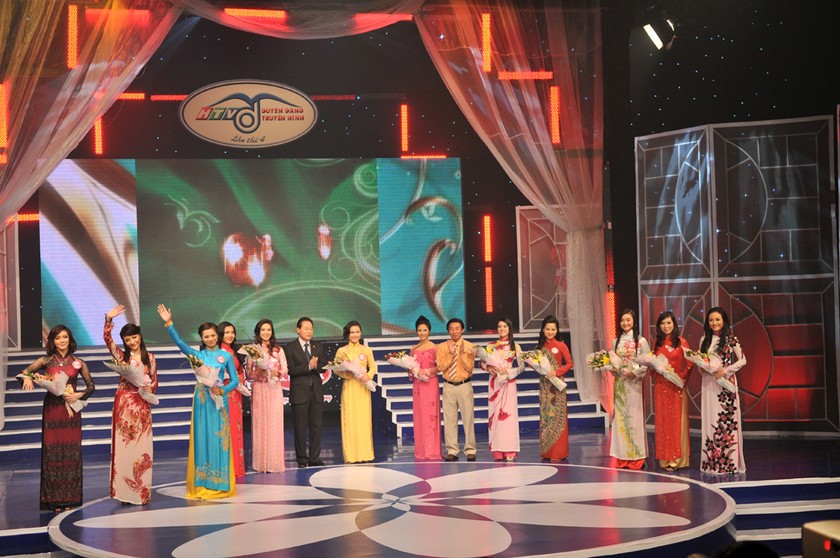 Contestants of the Miss Charming TV pageant gather onstage during the first final round this year in HCMC (Photo: Phan Thanh Tin )
The fourth "Miss Charming TV" competition officially kicked off December 20 in Ho Chi Minh City with 13 contestants from 12 TV stations nationwide vying for the title. The annual talent competition, sponsored by Vina Acecook, seeks outstanding female TV broadcasters, editors and program hosts.
Over the course of several days, contestants have the opportunity to showcase their personality, talent, appearance, and ability to speak articulately in front of an audience. Demonstrating a passion for their careers and employers is also a must.
On December 23, an ao dai (traditional Vietnamese tunic) show was held along with an introduction session in which contestants share personal details; introduce their TV station; and highlight the sightseeing and cultural activities where they live or work.
 
On December 26, the women will recount their most memorable career moments and perform in a gala and ASEAN costume event. They will also share humorous and touching stories about their careers and work environments.
On the final night December 28, contestants will compete in three events: a costume show, a demonstration of their aptitude for arts and culture, and a question-and-answer session. Competitors will perform in the traditional clothes of the region they are from.
In previous years, audiences have been treated to surprising performances by contestants in the aptitude event in which they sing modern songs, dance, tell stories, play instruments or sing cai luong (a southern Vietnamese form of modern folk opera).
Miss Charming TV is broadcast live on HTV9 on December 23, 26 and 28.