Families of Vietnamese diplomats and their counterparts from ASEAN member countries attended the ASEAN Family Day 2011 at the Jablines-Annet entertainment area on the outskirts of Paris on June 27
.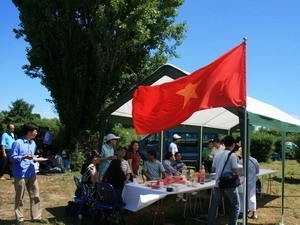 Camping area of the Vietnamese Embassy (Photo: Vietnamplus)
The participants had a chance to take part in diversified sports and cultural activities as well as enjoy ASEAN traditional dishes.
Ta Quoc Tuan, First Secretary of the Vietnamese Embassy in France said that this event contributed to tightening friendship, solidarity and cooperation among ASEAN diplomatic organisations in France as well as promoting mutual understanding among ASEAN countries.
This year's ASEAN Family Day was chaired by the Cambodian Embassy in France.