Celebration of the Viet Nam Cultural Week was carried out in the Lao capital of Vientiane since Wednesday Aug, 30th as part of activities to mark the 66th anniversary of Viet Nam National Day (September 2nd ).
The event is being organized under the bilateral cultural co-operation project being implemented by both nations from the year of 2009 until 2012
Thirty artists from Viet Nam will perform in Laos during the week.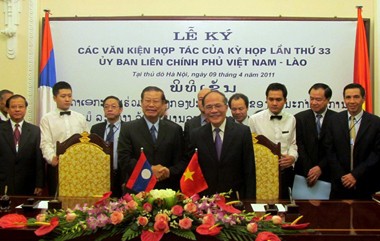 The signing ceremony of agreements on bilateral cooperation between Vietnam and Laos during the 33rd session of the two side's Inter-governmental Committee, Hanoi, April 9, 2011
An exhibition called "Viet Nam Beauty" display Vietnamese handicraft products and a collection of 50 photographs introducing Vietnam's landscapes, people and culture.
The event will also include a signing ceremony between the two ministries for a co-operative agreement in culture and artistry for the 2012- 2015 period.
The event, co-organized by Viet Nam's and Laos's Ministry of Culture, features a variety of activities including music and dance performances
Another ceremony will mark the hand over of the Lao National Art and Music School that was constructed using an aid giant given by the Vietnamese Government.
The event would strengthen and promote the special ties of friendship, solidarity and comprehensive cooperation between the two countries.
The five-day event will close on Sunday Sep, 4th