Twenty-two Vietnamese designers showcases over 1,000 fashions at the French Consulate General in Ho Chi Minh City December 11-12.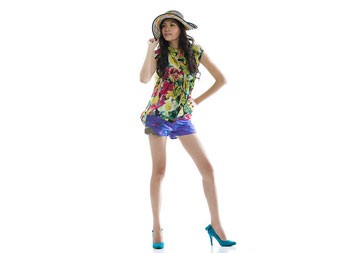 A design by Hoai Sang is presented in the fashion show.
Vietnam Fashion Week Spring/Summer 2010 is the biggest fashion show in the country and the event marks Vietnam's entrance into the Asian Fashion Federation.
The French Consulate General in HCM City, Vietnam National Textile and Garment Group (Vinatex), Vietnam Textile and Apparel Association (Vitas), Vietnam Leather and Footwear Association (Lefaso), and the Vietnam Fashion and Design Institute (Fadin) are organizing the event.
Local fashion designers Trong Nguyen, Thien Trang and Ngoc Dieu will present more than 100 fashions from top-name brands such as Sanciaro, Mahattan, T-up, and Viettien Smart Casual on December 11. New collections from many other Vietnamese designers including Quang Huy, Hien Le, and Minh Minh will also be exhibited on the day.
On December 12, Hong Vuong, Van Khoa and Bich Ha of the Viet Thang Textile Company; and Minh Hanh, Cuong Thinh, and Nhat Huy among others, will introduce their latest collections.
"Most designs are created using 3D technology," said fashion designer Minh Hanh, director of Fadin in HCM City. "Designers learned the technique in courses which were held by the Paris Fashion Institute in the country."
The event will open with a ballet performance by Linh Nga on a stage decorated with 8,000 yellow roses in the garden of the French Consulate General.
More than 40 models in Hanoi and HCM City will take part in the event.