Critically acclaimed Vietnamese pianist Tra Nguyen made her debut at the Wigmore Hall in London on Sunday, playing a selection of piano sonatas by the world's best-known composers.
Her performance was hailed with a long round of applause from an enthusuiastic audience.
Mark Thomas, an English recording engineer, travelled more than two hours by train with his wife from the west of London to Wigmore Hall. He said he has known Tra for about five years, and the two have collaborated on five CDs.
"I have never heard Tra play Clementi and Schubert, but tonight she played really well. I enjoyed the recital very much. Many people are here tonight too," he said.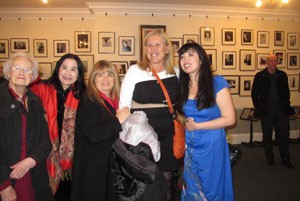 Pianist Tra Nguyen (first right) poses for a photo with members of the audience and her mother, noted actress Tra Giang (second left).
Piroska Komlosi, a tourist from Hungary, said that she had never heard of the pianist. But when passing through Wigmore Hall, she saw there would be a recital by a Vietnamese pianist and decided to go in.
"Her playing is so romantic. I was very much satisfied with the recital," Komlosi said, adding that it was special for her to listen to a Vietnamese pianist because she had some good Vietnamese friends in Budapest.
The programme says Tra Nguyen has been hailed as an artist who captivates audiences with her "impressive combination of power and poetry" and "deeply thoughtful" interpretations. Her recent recordings were twice chosen as Albums of the Week by The Independent.
Tra has performed live for Hongkong Radio Four at at the Shostakovich Centenary Festival at London's Queen Elizabeth Hall. Her 2008 concerto debut in Japan at the Tokyo City Opera Concert Hall was met with great enthusiasm and sold out quickly.
After graduating from the Moscow Conservatoire, Tra moved to London in 1997 to study with Professor Christopher Elton at the Royal Academy of Music, where she received the Academy's highest award for her final recital. She currently lives in London.
Wigmore Hall is a leading international recital venue that specialises in hosting chamber music performances and is best known for classical piano, vocal and instrumental music