The Asian Youth Orchestra (AYO) will return to Việt Nam playing two concerts at the Việt Nam National Academy of Music (VNAM)'s Grand Hall on August 17 and 18.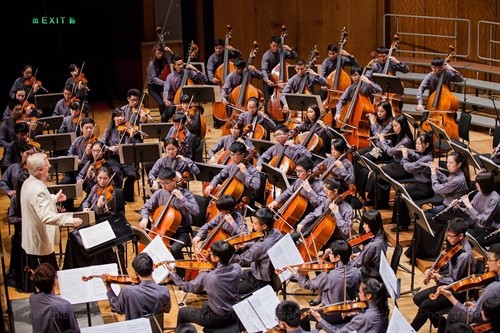 Award winning: Asian Youth Orchestra founder and conductor will lead the concerts in Hà Nội on August 17 & 18. -- Photo asianyouthorchestra.com
The annual concert is part of the AYO's three-week international concert tour with celebrated conductors and solo artists.
The 110-member orchestra will take the stage at VNAM's Grand Hall. The orchestra first performed in Hà Nội in 1996, and since has performed in Việt Nam in 2000, 2011 and 2013.
In 2000, the orchestra performed in both Hà Nội and HCM City.
It is a rare chance for both professionals and music lovers to enjoy musical masterpieces performed by the finest young musicians in Asian countries, such as mainland China, Hong Kong, Taiwan, Indonesia, Japan, South Korea, Singapore, Thailand and Việt Nam.
The musicians were chosen through highly competitive auditions held throughout the region. They are together for six weeks each summer, initially for a three-week rehearsal camp in Hong Kong.
Violinist Đỗ Ngọc Thảo My is the only Vietnamese representative currently playing in the AYO. Last year the 18-year old student of VNAM also played in the AYO to mark its 25th anniversary.
"I'm not nervous playing in the AYO for the second time, but it is still fresh and exciting to me," said My.
"Joining the AYO gives me a chance of meeting classical music virtuosos who are from the Munich Philharmonic, the London Philharmonic Orchestra and the Vienna Volksoper. I have access to new thoughts and creativity in classical music."
"As a VNAM student, I'm proud to be a Vietnamese representative playing in the AYO. It will be a precious experiment that I will never forget in my career."
My is among many VNAM students that have been recruited to play in the AYO. Violinist Nguyễn Khắc Uyên was the first Vietnamese representative to play in the AYO in 1991.
Since AYO's establishment in 1990, about 40 talented music students from VNAM playing different instruments, such as the violin, bassoon, percussion, double bass, French horn, oboe and clarinet have performed with the AYO.
A few of them including bassoonist Nguyễn Bảo Anh, the two violinists Nguyễn Quốc Trường and Tăng Thành Nam and oboist Đỗ Kiên Cường have played in the AYO three times.
Since its inaugural performances in 1990, the award-winning orchestra has played some 395 concerts in Asia, Europe, the US and Australia to an audience of more than one million concert goers.
Millions more have seen and heard the orchestra around the world on CNN, CNBC, NHK and Radio and Television Hong Kong.
The AYO was awarded Japan's prestigious Praemium Imperiale Grant for Young Artists in 2010 and the Nikkei Asia Prize for Culture in 2015. Its achievements include the first concerts played by musicians from mainland China and Taiwan seated side-by-side in Beijing and Taipei, the first concert by an international orchestra in 50 years in Hà Nội, the world premiere performances of Tan Dun's Symphony 1997 with cellist Yo-Yo Ma in Hong Kong and Beijing marking the territory's reunification with China, multiple performances in Beijing's Great Hall of the People, and performances in the White House and at the United Nations.
Hà Nội's concerts will see the young musicians play pieces such as Symphony No.8 by Czech composer Antonin Dvorak; Symphony No.6 entitled Pathetique by Tchaikovsky; Fanfare for the Common Man and Appalachian Spring by American Aaron Coplan and The Planets by English Gustav Theodore Holst.
The concerts will begin at 8pm under baton of conductors James Judd and Richard Pontzious. Conductor Pontzious is one of founders of the AYO and is also its art director.
Tickets are sold from VNĐ200,000 (US$18) at 77 Hào Nam Street.
After Hà Nội, the AYO will perform in Taiwan on August 21, 22 & 24; in Nagoya on August 26; Ayase on August 28 and Tokyo on August 29 & 30.