The performance of Vietnamese circus artist brothers Giang Quoc Co and Giang Quoc Nghiep by scaling 90 stairs in 52 seconds on the steps of Girona Cathedral in Spain has been officially recognized by Guinness World Records.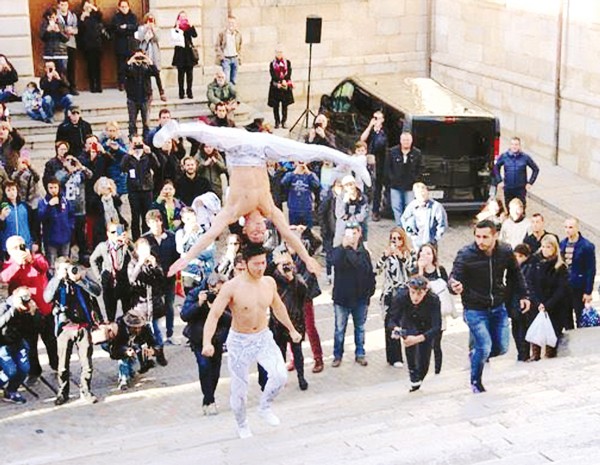 Giang Quoc Co and Giang Quoc Nghiep perform the stunt at the Cathedral of Girona in Spain
Circus brothers Giang Quoc Nghiep and Giang Quoc Co broke a Guinness record on December 22 by climbing the picturesque steps of the Cathedral of Girona with one sibling balanced atop the other using only head-to-head contact.
The impressive performance smashed a Guinness world record which was held by Chinese duo Tang Tao and Su Zengxian, who climbed 25 consecutive stairs in a minute using the same technique in September 2014.
Well-known artist brothers Giang Quoc Co and Giang Quoc Nghiep were born into a circus family. They have performed in more than 30 countries and territories throughout the world and received many local and international circus awards.

They previously organized a Circus art & contemporary dance performance marking their 15-year career at Ho Chi Minh City Opera House in November. The event also celebrated the 10th anniversary of the "Power of the Arm" performance by circus artists.
The "Power of the Arm" performance won several local and international circus prizes, such as the Grand Prix Award at the 10th International Circus Festival 'Circuba 2011' in August in La Habana in Cuba; three prizes at the 13th International Circus Festival in Italy which included a silver medal and two minor titles awarded by the world's leading circus groups- - Monte Carlo Circus and Cirque du Soleil; the Silver Lion Award in 2011 at the 13th Int'l Circus Festival in Hebei Province in China; the first prize at the Vietnam-Laos-Cambodia young circus talent competition in 2009; and a gold medal at the Hanoi International Circus Festival in 2010.