Hanoi will hold Vietnam's first international salsa festival, "Salsa Holidays," with more than 100 salsa dancers from various countries expected to come to the capital from July 30 to August 1, it was recently announced.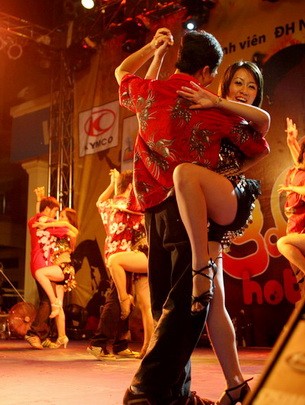 Besame group (Bui Khanh Thu and Tran Minh Hoang) won the first prize at Hanoi Salsa contest 2008. They will represent Vietnam at the Salsa Holidays. (Photo: apsaradancestudio.com)
Hosted by the Sheraton Hotel, the festival will give fans a chance to enjoy and be in the presence of three special foreign guests, who will perform with international and Vietnamese dancers.
The Salsa Festival will also see group dancers from salsa clubs in Hanoi such as HYEC, ODC and Newdance.
With three dance parties and two art performances by famous international couples, as well as domestic performers, the festival is expected to attract many people and strengthen the development of salsa in Vietnam.
Besides enjoying impressive shows by international and Vietnamese salsa dancers, Salsa Holidays will be a chance for young people to register for salsa courses taught by famous foreign dancers.
The salsa courses are expected to last six hours on August 1, the learners will have a chance to exchange experiences with international dancers.
Salsa entered Vietnam several years ago and has quickly developed.
You can find more related information at: http://www.apsaradancestudio.com