Audiences voted for Hoang Nghiep as their "Favorite Singer" while Duy Khoa won the "Most Promising Singer" title at the Sao Mai Diem Hen (Morning Star Rendezvous) Music Contest that wrapped up in Ha Noi yesterday.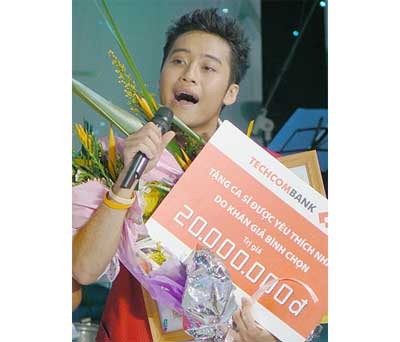 Singer Hoang Nghiep  wins the title "Favorite singer" of the Sao Mai Diem Hen Music Contest 2008.
For more than two months, the two hot young stars competed – together with nine others -- for every vote after managing to attract women fans with their slick looks and terrific voices.
The jury, unable to confer the "Best singer" title on any contestant, gave consolation prizes to Hai Yen, Nhat Thu, and Khac Hieu.

Sao Mai Diem Hen was first organized by Viet Nam Television in 2004 and has since become a roaring success. It offers young folk, opera, pop, and rock singers a chance to show off their talents.

This year's finalists and winners of the 2004 and 2006 editions will take part in a music gala at Lan Anh Music Hall in Ho Chi Minh City on September 7. The concert will be broadcast live on VTV3.